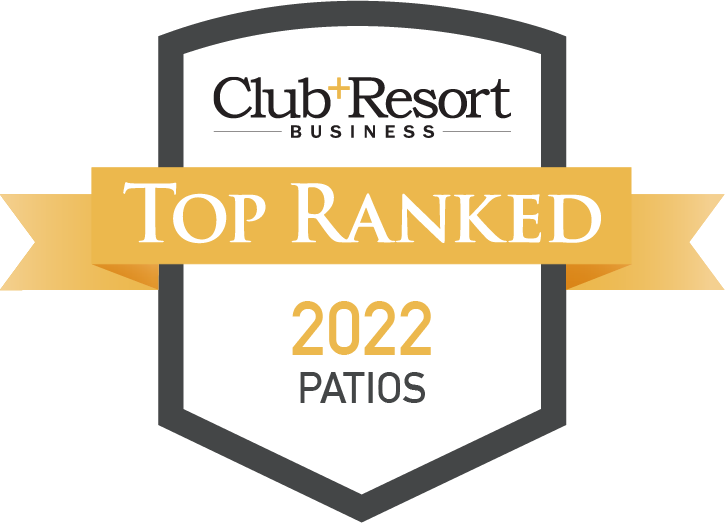 Club+Resort Business is recognizing the Top Ranked Club & Resort Patios across the US.
This prestigious distinction provides private clubs and resorts with valuable marketing benefits for attracting and retaining new members and guests in a highly competitive marketplace. Inclusion on this list highlights the investments you've made in your Patios and outdoor areas.
As part of the Top Ranked Patios, you receive 2022 national recognition by Club+Resort Business, coverage of your club online and in the magazine, and an opportunity to use the exclusive "Top Ranked" badge in your marketing and member materials.
Your "Top Ranked" listing highlights aspects of your facility so you can differentiate your facility and elevate prospective member interest.
Participation will take less than 5 minutes.
The deadline for entry is July 22, 2022.
For any questions or clarifications please contact the Top Ranked Team
Showcase your Clubs Patio by entering information via our easy-to-use upload system and tell us why it should be Top Ranked. All entrants will be included in the Top Ranked list. Ranking order will be determined by a panel of independent industry judges.
The entry fee is $279.00 for each facility submission and the deadline is July 22, 2022.
Submissions for the Patio category include the following:
• Patio Sq. Ft.
• Covered Sq. Ft.
• Seating/Total Capacity
• Outdoor Oven(s)
• Firepit(s)
• Outdoor Bar/Service Station
FAQS

Q: What does the entry fee cover?
The entry fee helps to cover the administrative costs we incur for building and maintaining the website platform for submitting entries and preparing them for judging. It also helps to discourage frivolous entries and fund the recognition awards that we will issue to those that earn rankings.
Those who enter and earn rankings will also be entitled to receive special research reports and data that we will prepare based on the information submitted from all entries.
We feel the entry fee is very reasonable in comparison to what is required for other rankings and award programs in the industry.
Q: What issue will the winners be featured in?
The rankings for the entries will be published in the August 2022 issue of Club + Resort Business and also featured on the C+RB website, its daily e-newsletter and its special-focus e-newsletter.
Q: Once we enter are we guaranteed to be featured in an upcoming publication?
All entries will be recognized, but the final rankings will be determined by the judging.
Copyright © 2021-2022. WTWH Media. All rights reserved.